Today I have the pleasure of introducing all of you to my friend Melanie of the blog Melanie Makes. I connected with Melanie a few months back through the #SundaySupper group and immediately fell in love with her recipes and writing style. Her blog is filled with classic family favorites with a gourmet twist. I consistently find myself drooling over her posts. Take these Birthday Cake Pancakes for example, or her Seven Layer Taco Dip Burger (<<Hello, perfect grilling food!). I also can't wait to try her Roasted Balsamic Rosemary Potato Salad which is thankfully gloppy-mayo-dressing free.
Today, Melanie brought us an extra sweet, extra indulgent recipe: Dulce de Leche Swirl S'more Brownies. Yes, you read that right. Feast your eyes, my friends. Take it away Mel!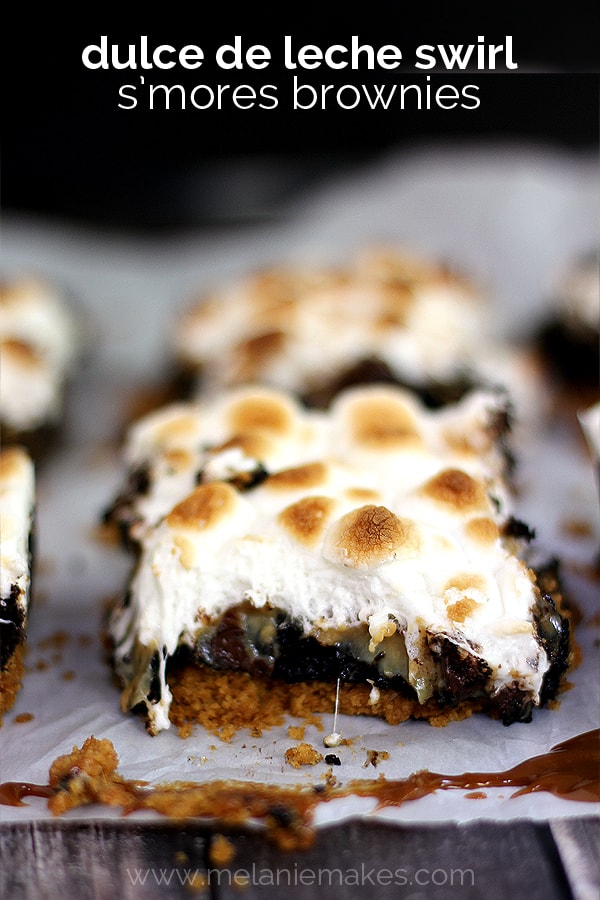 I love happy accidents and that's exactly what these brownies are.  For two days I had tried making popsicles featuring dulce de leche – I'm a bit obsessed with the flavor at the moment it seems.  The flavor was absolutely awesome.  The problem?  The dulce de leche refused to freeze enough to allow for the popsicles to come out of the mold intact.  I was always left with the bottom half of the popsicle.  I'm not really into serving what appears to be a half eaten popsicle to someone so I finally threw in the towel.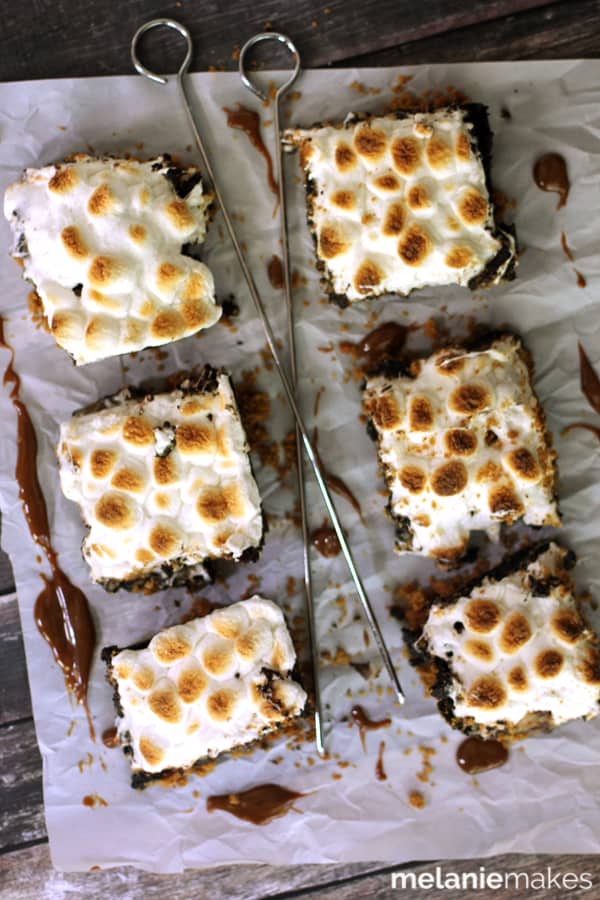 As I was cleaning up my mess from the second failed attempt and trying not to focus on the amount of time or ingredients I had wasted in the process, I spied a stack of mini marshmallows on the counter that I had volunteered to supply for  Bible School in the coming weeks.  AHA!  Inspiration!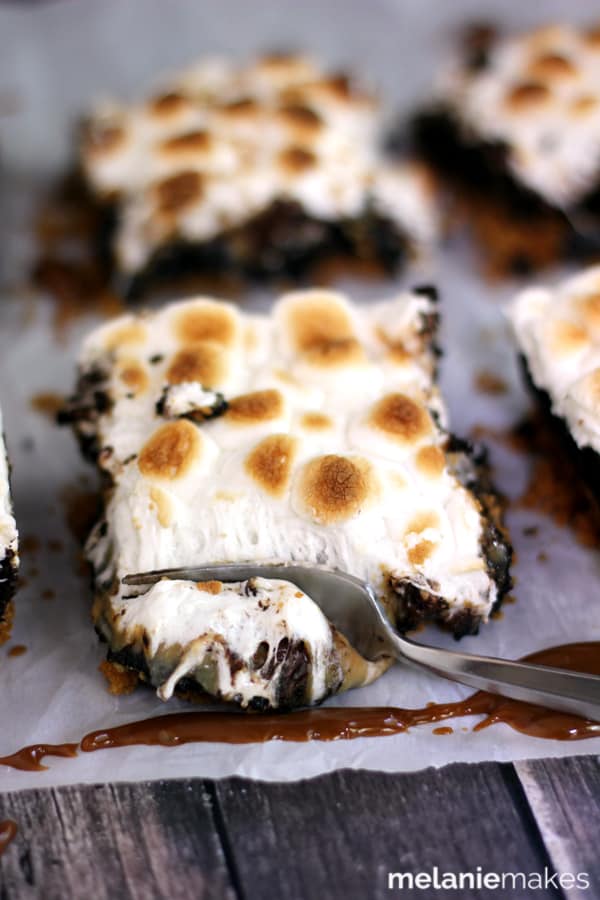 To me, marshmallows are really only meant for one thing.  S'mores!  And what if I were to combine my new flavor crush of dulce de leche with a s'more?  And perhaps put it all on a brownie for added chocolate impact?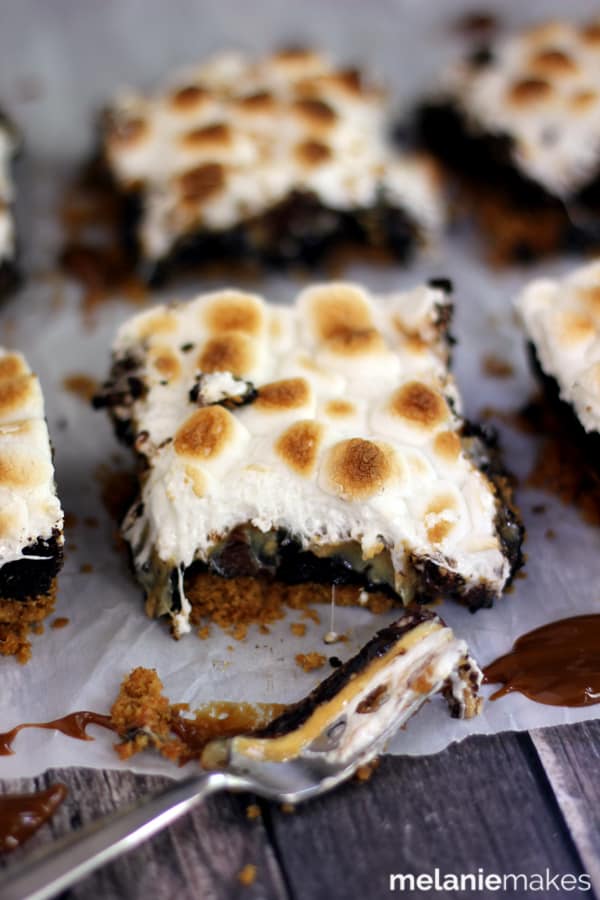 Luckily I had everything on hand needed to see if this new hairbrained idea would actually work and I found myself turning on my oven for the third time this week to make dulce de leche.  Which, for the record, is the most hands off thing to make in the history of things you might create in your kitchen.
And what do you know?  It worked!  Layer upon layer of flavor.  But grab a plate and a fork – these are not brownies you want to eat with your hands unless you'd like to be hosed off afterwards.  Oooey, gooey goodness with each and every bite.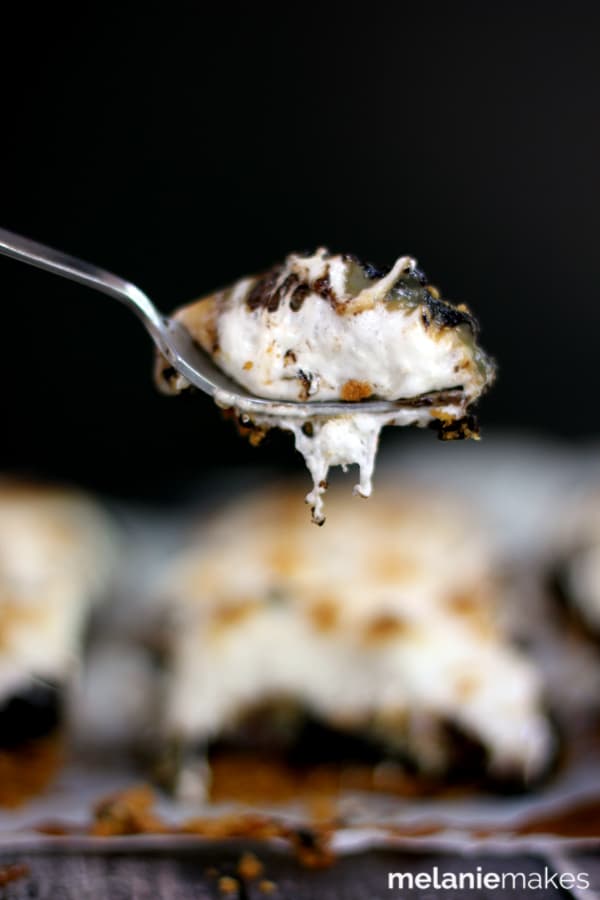 A base of graham cracker crumbs that's topped by a rich, fudgy brownie.  Dollops of dulce de lech are plopped onto the brownie batter and then swirled into it to insure that each bite is as decadent as the one prior.  I might have then gone a little overboard as I thought a handful or two of chocolate chips on top of all of that was a good idea.  (For the record, I was right.)  Into the oven this pan of heaven goes and when it's done, it's topped with clouds of mini marshmallows – a whole bag! – and then broiled to the perfect shade of char doneness.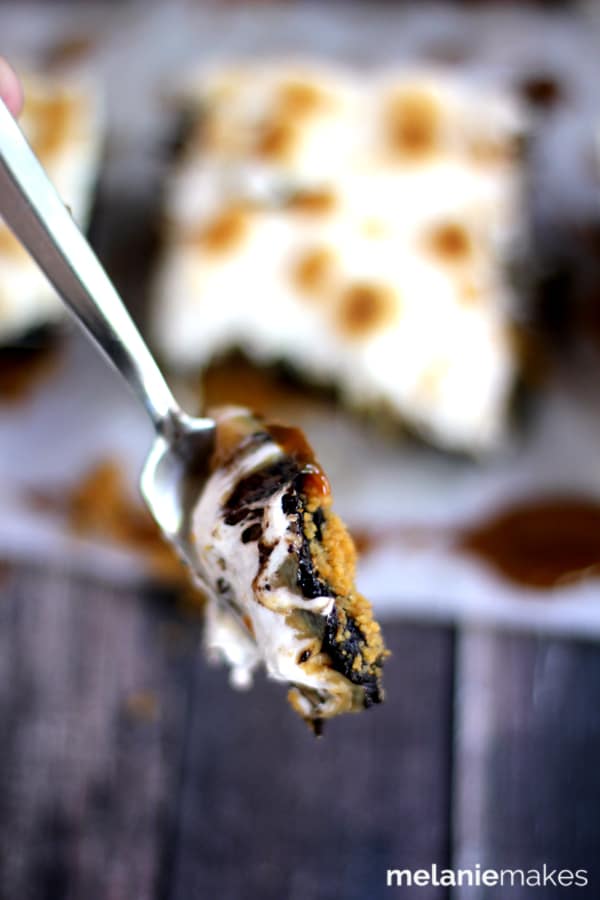 Dulce de Leche Swirl S'mores Brownies
Yield: 16-20

Prep Time: 30 minutes

Cook Time: 1 hour 20 minutes

Total Time: 1 hour 50 minutes
Ingredients
14 ounces sweetened condensed milk
For the crust:
3 cups graham cracker crumbs
1/4 cup sugar
1/4 teaspoon salt
3/4 cup butter, melted
For the brownies:
3/4 cup cocoa
3/4 cup butter, melted
2 Tablespoons hot water
1-2/3 cup sugar
2 eggs, beaten
2 teaspoons vanilla
1-1/3 cup flour
1/2 teaspoon baking powder
1/4 teaspoon salt
2 cups chocolate chips
For the topping:
10-1/2 ounces mini marshmallows
Instructions
For the dulce de leche:
Preheat oven to 425 degrees. Empty sweetened condensed milk into 8x8 dish. Cover with foil and place in 9x13 pan.
Add water to larger pan, filling it until water reaches three quarters up the sides of the covered dish.
Bake for 90 minutes, being sure to check on the water level as it cooks to insure water remains at desired level.
For the brownies:
As dulce de leche cools, preheat oven to 350 degrees. Grease a 9x13 pan and set aside.
In a medium bowl, stir together graham cracker crumbs, sugar, salt and butter until combined. Pour into prepared pan and press into an even layer. Bake for 12-14 minutes or until set and beginning to brown.
In a large bowl, stir together cocoa, melted butter and hot water. Add sugar, eggs and vanilla and stir until well combined.
Stir in flour, baking powder and salt until just combined.
Top graham cracker crust with brownie mixture, spreading in an even layer.
Add dollops of dulce de leche on top of brownie batter and swirl together with knife or skewer to create marbleized effect. Sprinkle with chocolate chips.
Bake for 18-20 minutes or until just set.
Remove brownies from oven and turn oven to broil setting. Add marshmallows to top of brownies pressing lightly to adhere them to the warm brownies. Broil for 2-3 minutes or until they reach desired char level. Watch closely!
Let cool completely before attempting to cut and serve.


Recipe courtesy of Melanie Makes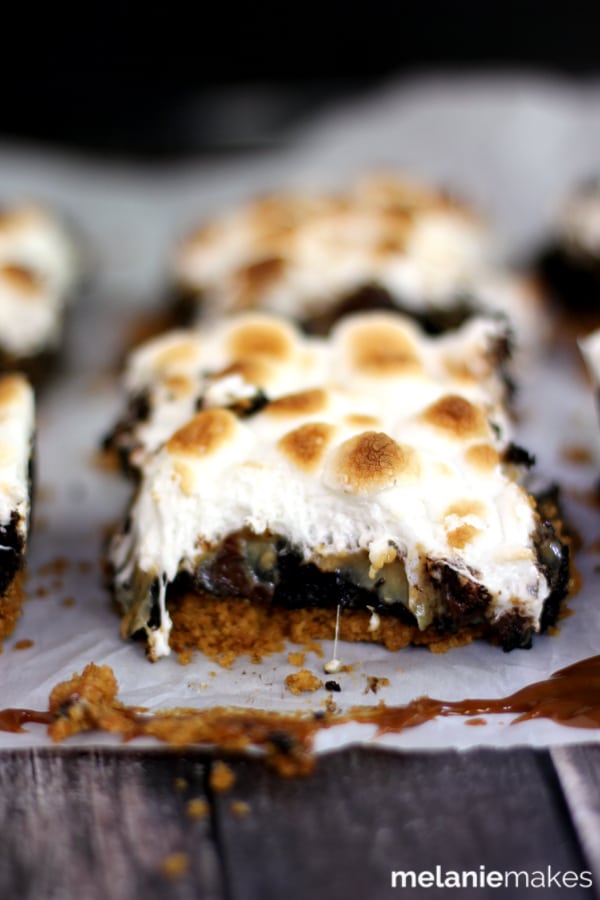 Without a doubt, these are my new favorite brownies.  Rich, decadent and absolutely perfect in every way.  The fact that I can roast what seems like a bijillion mini marshmallows at once thanks to my broiler?  That's pretty awesome in my book!